Oasis Park Fuerteventura
Visit Oasis Park in Fuerteventura and enjoy one of the best zoological and botanical parks in the Canaries.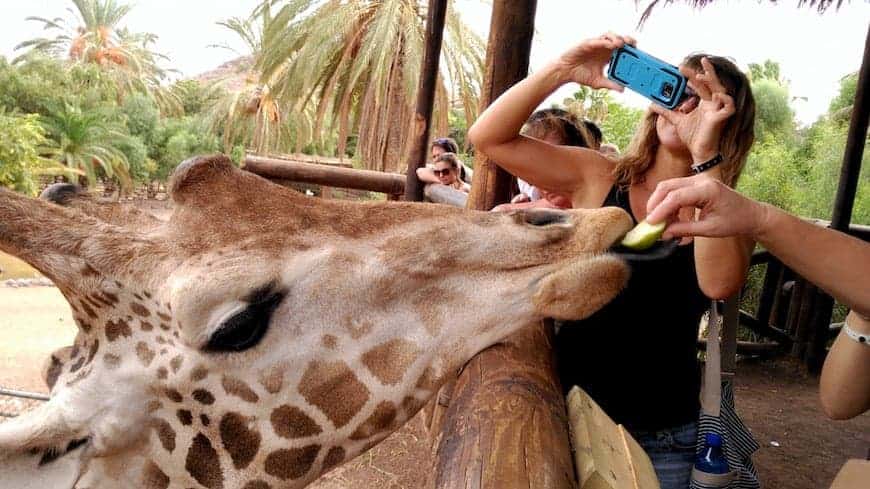 In this 800,000+ square metre park, discover more than 3,000 animals representing 250 species and have fun at its different animal shows. Cross more than 170,000 square metres at the botanical garden, where you'll find more than 3,000 species of cacti and palms. And if you want to take a camel ride, you can also enjoy one here.
At the birds of prey show, we will get to know the characteristics of this type of bird and will see some of the most representative species fly, such as falcons, eagles, vultures, eagle-owls and other owls.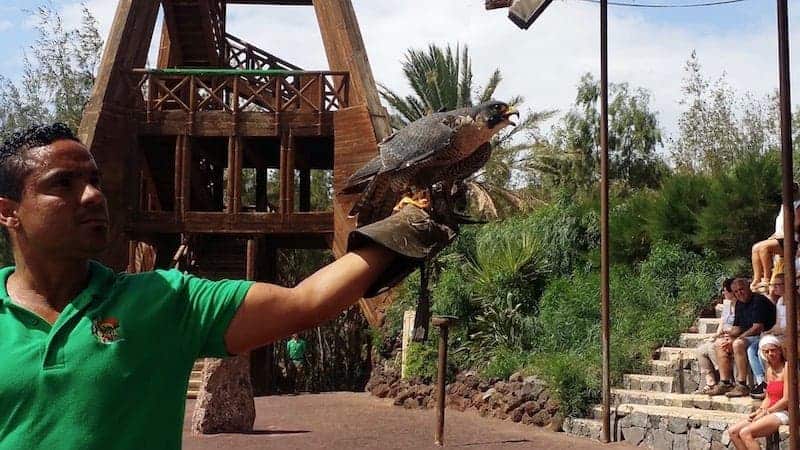 At the reptile show, we will learn things about these species and will see examples of three types of reptiles: crocodiles, lizards and snakes.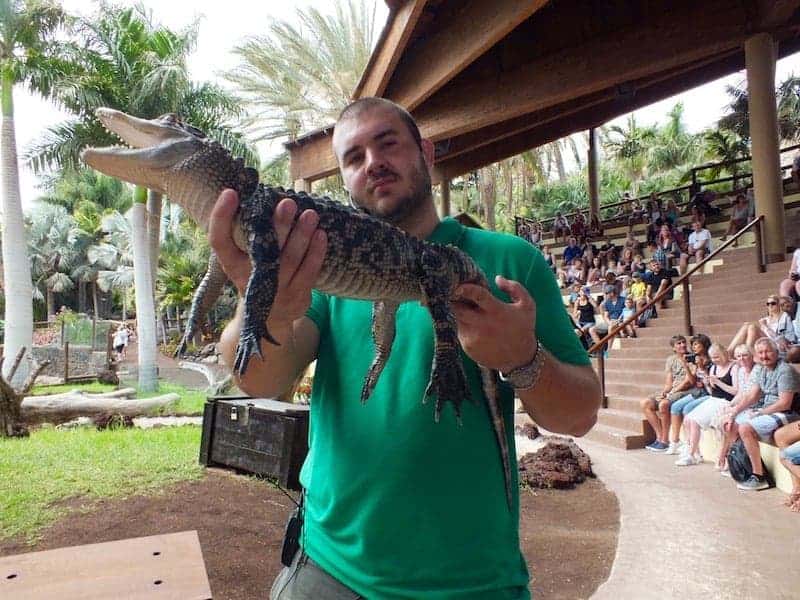 At the sea lion show, we will have fun seeing these friendly animals dance, juggle and do tricks with their handlers.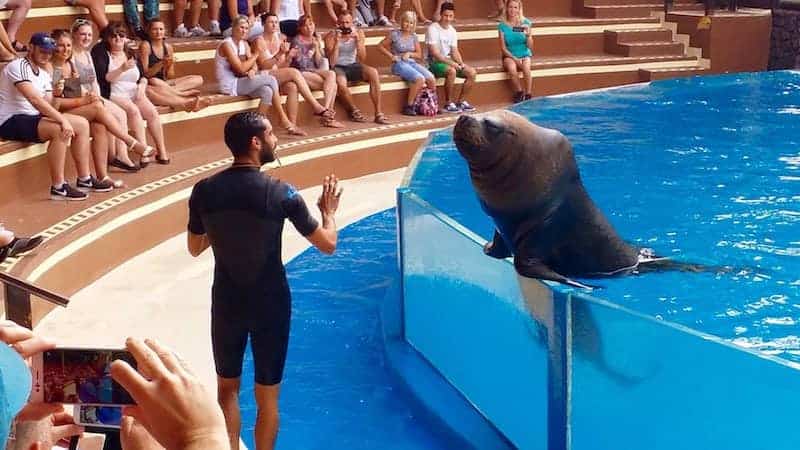 If you like, you can pay to go on a camel ride through the park, practically the only place to do so in Fuerteventura.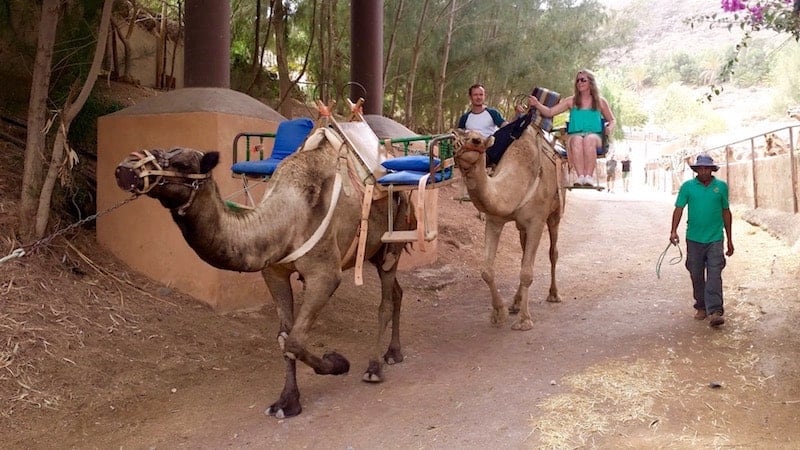 Visit the giraffes and, if you want, feed them. Or take a picture with them when they come to greet you.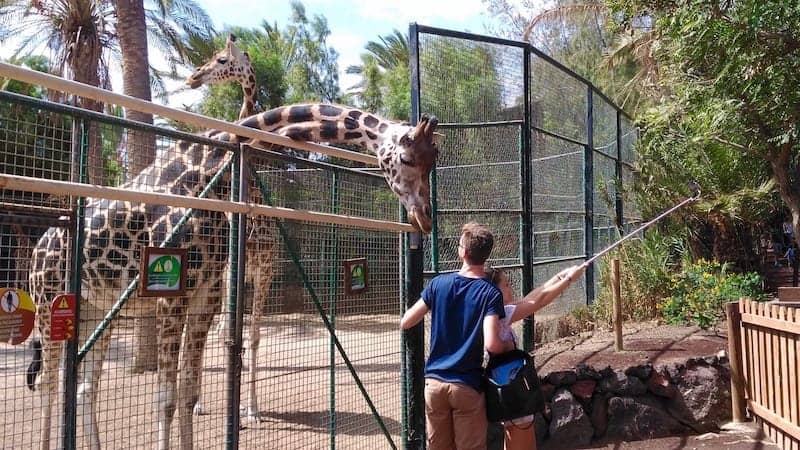 Let yourself be surprised by the beauty of the cheetahs or by the enormous mouth of the hippos.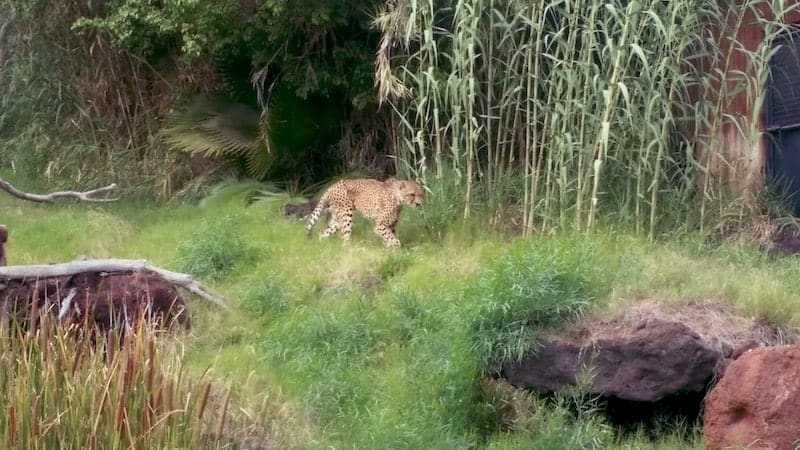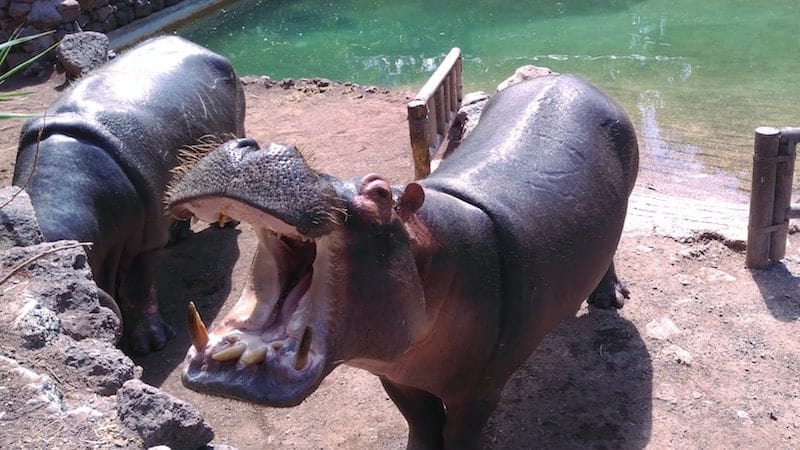 Come see the amazing African elephants.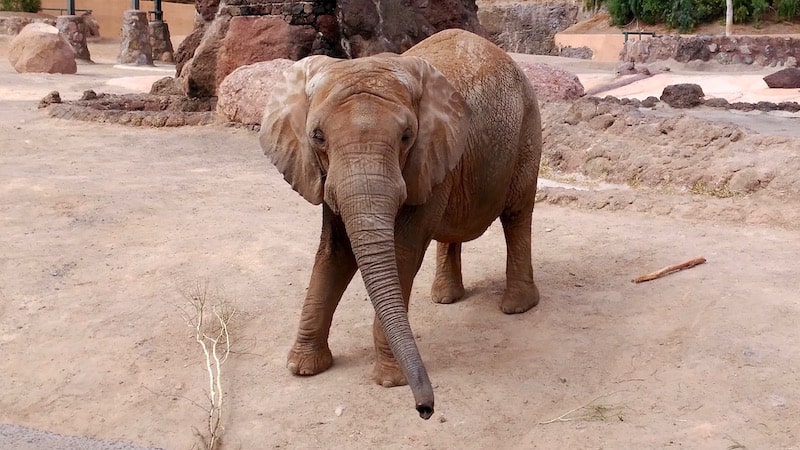 Visit the largest camel reserve in Europe and, if you want, feed them.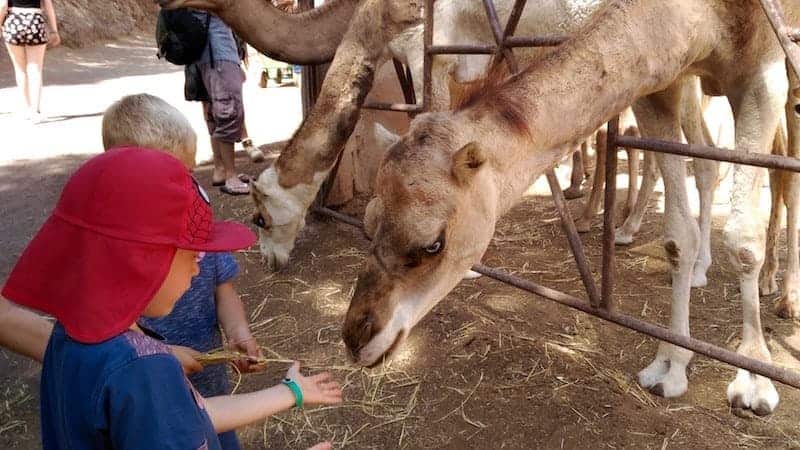 Discover the African savanna where zebras, antelopes, gazelles, Barbary sheep and ostriches coexist in harmony.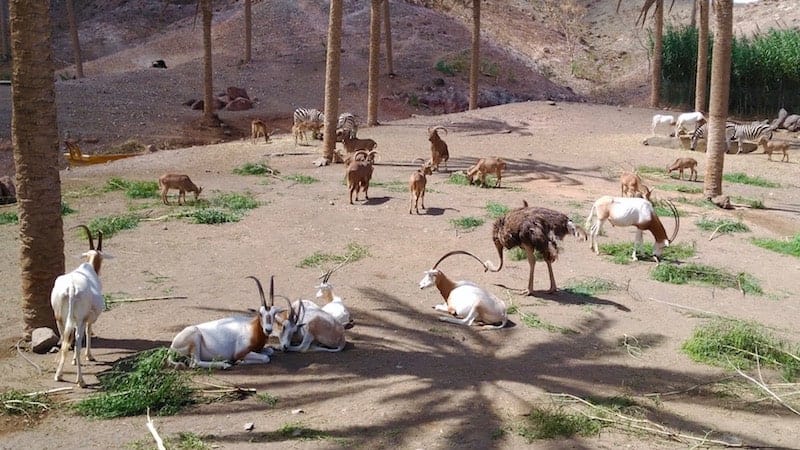 Be surprised by the beauty of the oryxs or the friendliness of the suricates (meerkats).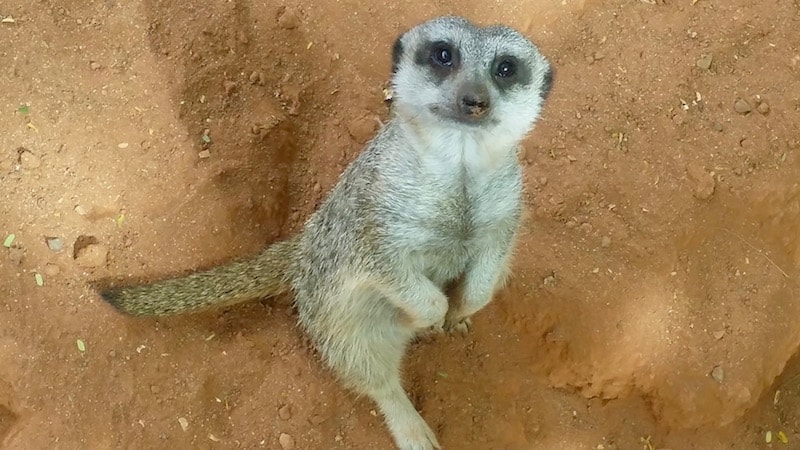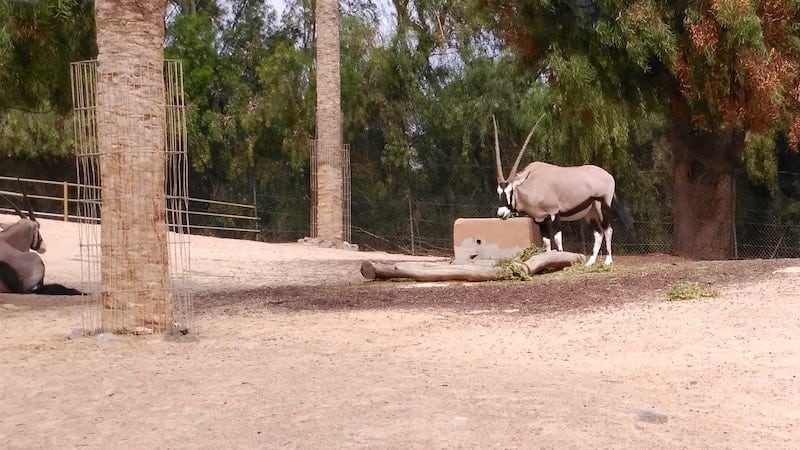 And marvel at the elegance of the flamingos and the sullen expression of the marabou stork.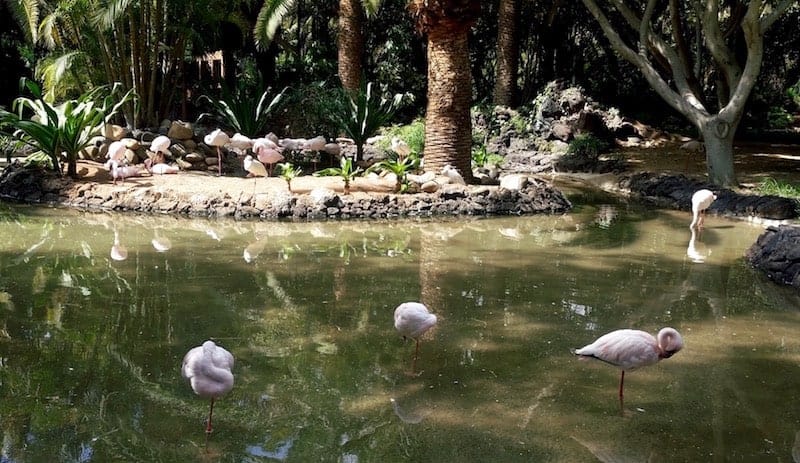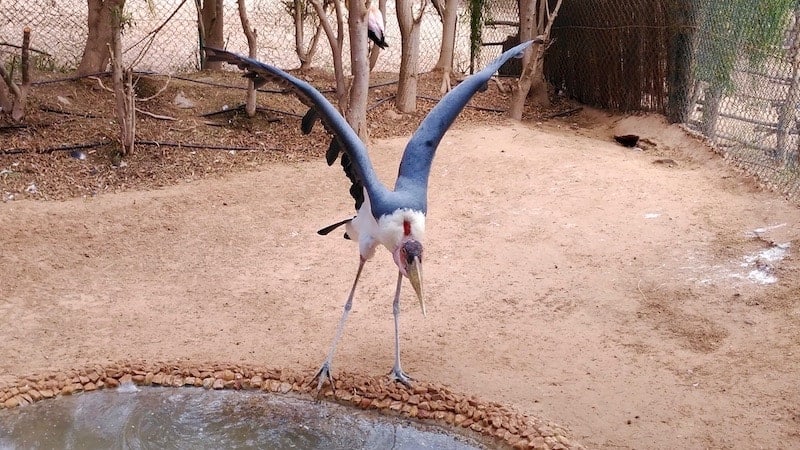 These and other animals await you during your visit to Oasis Park.
In short, we offer you an ideal plan to enjoy on your own, with friends, with your partner or as a family with children.
We would appreciate it if, upon finishing your visit to the park, you'd leave us a review of your experience.
PICK UP CORRALEJO
| | | |
| --- | --- | --- |
| HOTELS | BUS STOP | TIME |
| Aloe Club | Aloe Club (Hotel entrance) | 8:15 |
| Arena | Aloe Club (Hotel entrance) | 8:15 |
| Playa Park | Playa Park (Hotel entrance) | 8:15 |
| Verdemar | Playa Park (Hotel entrance) | 8:15 |
| Maxorata Beach | Maxorata Beach (Hotel entrance) | 8:20 |
| Atlantic Garden | Maxorata Beach (Hotel entrance) | 8:20 |
| Alisios Playa | Maxorata Beach (Hotel entrance) | 8:20 |
| Atlantis Duna Park | Atlantis Duna Park (bus lane) | 8:25 |
| Corralejo Beach | Atlantis Duna Park (bus lane) | 8:25 |
| Apartamentos Erica | Atlantis Duna Park (bus lane) | 8:25 |
| Muelle | Muelle de Corralejo (Harbour) | 8:30 |
| Dunas Club | Dunas Club (Hotel entrance) | 8:30 |
| Hesperia Bristol Playa | Hesperia Bristol Playa ("Stop" before entrance) | 8:35 |
| Surfing Colors | Hesperia Bristol Playa ("Stop" before entrance) | 8:35 |
| Oasis Papagayo | Oasis Papagayo (bus lane) | 8:40 |
| Bahiazul | Bahiazul (Hotel entrance) | 8:45 |
| Mirador de Lobos | Mirador de Lobos (Hotel entrance) | 8:45 |
| RIU Oliva Beach | RIU Oliva Beach (Hotel entrance) | 8:15 |
| RIU Palace Tres Islas | RIU Palace Tres Islas (Hotel entrance) | 8:15 |
| Oasis Dunas | Oasis Dunas (Bus Stop hotel) | 8:25 |
| Oasis Village | Oasis Dunas (Bus Stop hotel) | 8:25 |
| Bahía de Lobos | Bahía de Lobos (Hotel entrance) | 8:30 |
| H10 Ocean Suites | Barceló Corralejo Sands (Hotel entrance) | 8:30 |
| Fuentepark | Barceló Corralejo Sands (Hotel entrance) | 8:30 |
| Corralejo Village | Barceló Corralejo Sands (Hotel entrance) | 8:30 |
| Barceló Corralejo Sands | Barceló Corralejo Sands (Hotel entrance) | 8:30 |
| Barceló Corralejo Bay | Barceló Corralejo Bay (Hotel entrance) | 8:35 |
| Galera Beach | Barceló Corralejo Bay (Hotel entrance) | 8:35 |
| Caleta Playa | Barceló Corralejo Bay (Hotel entrance) | 8:35 |
| Atlantis Fuerteventura Resort | Atlantis Fuerteventura Resort (Hotel entrance) | 8:40 |
| Atlantis Bahía Real | Atlantis Bahía Real (Hotel entrance) | 8:40 |
| Hotel Natura | Atlantis Bahía Real (Hotel entrance) | 8:40 |
| Las Marismas | Las Marismas (Hotel entrance) | 8:45 |
PICK UP COSTA CALMA
| | | | |
| --- | --- | --- | --- |
| HOTELS | BUS STOP | 1st TIME | 2nd TIME |
| H10 Playa Esmeralda | H10 Playa Esmeralda (Hotel entrance) | 8:40 | 10:15 |
| Esmeralda Maris | H10 Playa Esmeralda (Hotel entrance) | 8:40 | 10:15 |
| R2 Pájara Beach | R2 Pájara Beach (Hotel entrance) | 8:40 | 10:15 |
| H10 Tindaya | H10 Tindaya (Hotel entrance) | 8:45 | 10:20 |
| Morasol | H10 Tindaya (Hotel entrance) | 8:45 | 10:20 |
| Risco del Gato | H10 Tindaya (Hotel entrance) | 8:45 | 10:20 |
| SBH Costa Calma Palace | SBH Costa Calma Palace (Hotel entrance) | 8:50 | 10:25 |
| Bahía Calma | SBH Costa Calma Palace (Hotel entrance) | 8:50 | 10:25 |
| Ultra.de | SBH Costa Calma Palace (Hotel entrance) | 8:50 | 10:25 |
| SBH Mónica Beach | Reloj digital/ Digital clock/ Digitaluhr | 8:50 | 10:30 |
| SBH Taro Beach | SBH Taro Beach (Hotel entrance) | 8:55 | 10:30 |
| SBH Crystal Beach | SBH Taro Beach (Hotel entrance) | 8:55 | 10:30 |
| Sotavento Beach Club | Sotavento Beach Club (Hotel entrance) | 9:00 | 10:35 |
| NK Matas Blancas | NK Matas Blancas (Hotel entrance) | 9:05 | 10:40 |
| Drago Park | Drago Park (Hotel entrance) | 9:05 | 10:40 |
| Royal Suite | Royal Suite (Hotel entrance) | 9:05 | 10:40 |
| Fuerteventura Playa | Fuerteventura Playa (Hotel entrance) | 9:10 | 10:45 |
| Allsun Hotel Barlovento | Fuerteventura Playa (Hotel entrance) | 9:10 | 9:10 |
| SBH Costa Calma Beach | SBH Costa Calma Beach (Hotel entrance) | 9:15 | 10:50 |
| R2 Río Calma | R2 Río Calma (Hotel entrance) | 9:15 | 10:50 |
PICK UP JANDIA
| | | | |
| --- | --- | --- | --- |
| HOTELS | BUS STOP | 1st TIME | 2nd TIME |
| Jandía Golf | Jandía Golf (Hotel entrance) | 8:40 | |
| Occidental Jandía Mar | Occidental Jandía Playa (Hotel entrance) | 8:45 | 10:35 |
| Occidental Jandía Playa | Occidental Jandía Playa (Hotel entrance) | 8:45 | 10:35 |
| SBH Jandía Resort | SBH Jandía Resort (Hotel entrance) | 8:55 | 10:10 |
| Hotel Faro Jandía & Spa | Hotel Faro Jandía (Hotel entrance) | 9:00 | 10:10 |
| Sentido Buganvilla | Sentido Buganvilla (Hotel entrance) | 9:05 | 10:15 |
| Balcón de Jandía | Sentido Buganvilla (Hotel entrance) | 9:05 | 10:15 |
| Monte Solana | Sentido Buganvilla (Hotel entrance) | 9:05 | 10:15 |
| Palm Garden | Parada de bus (Bus Stop) Cosmo Shopping Center | 9:05 | 10:15 |
| Relaxia Jandía Luz | Parada de bus (Bus Stop) Cosmo Shopping Center | 9:05 | 10:15 |
| Alameda de Jandía | Parada de bus (Bus Stop) Cosmo Shopping Center | 9:05 | 10:15 |
| Meliá Sol Jandía Mar | Parada de bus (Bus Stop) Cosmo Shopping Center | 9:05 | 10:15 |
| Ifa Altamarena | Parada de bus (Bus Stop) Cosmo Shopping Center | 9:05 | 10:15 |
| Apartamentos Matorral | Parada de bus (Bus Stop) Cosmo Shopping Center | 9:05 | 10:15 |
| Sensimar Calypso | Sensimar Calypso (Hotel entrance) | 9:10 | 10:25 |
| Villamar | Sensimar Calypso (Hotel entrance) | 9:10 | 10:25 |
| XQ Palacete | Sensimar Calypso (Hotel entrance) | 9:10 | 10:25 |
| Apartamentos Alberto | Sensimar Calypso (Hotel entrance) | 9:10 | 10:25 |
| Atalaya | Sensimar Calypso (Hotel entrance) | 9:10 | 10:25 |
| Igramar | Sensimar Calypso (Hotel entrance) | 9:10 | 10:25 |
| RIU Palace Jandía | Parada de bus (Bus Stop) | 9:15 | 10:25 |
| Robinson Jandía Playa | Robinson Jandía Playa (Hotel entrance) | 9:15 | 10:30 |
| Iberostar Futura Palace | Iberostar Futura Palace (Hotel entrance) | 9:20 | 10:35 |
| Iberostar Playa Gaviotas | Iberostar Playa Gaviotas (Hotel entrance) | 9:20 | 10:35 |
| Iberostar Playa Gaviotas Park | Iberostar Playa Gaviotas Park (Hotel entrance) | 9:20 | 10:35 |
| Club Aldiana | Club Aldiana (Hotel entrance) | 9:25 | 10:40 |
Share your experience